"Program Schedule for 2012-2013"
Presentations are at 7:00 PM
All presentations are given
in the Historical Society Museum on the lower level of the Goodwin Library unless otherwise noted.
October 5th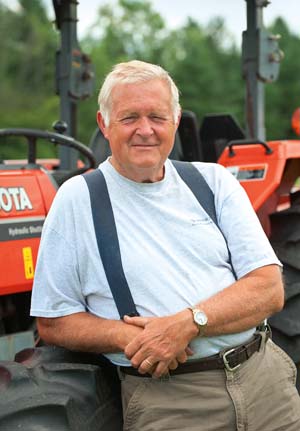 Stephen Taylor
former NH Commissioner of Agriculture
Note: sponsored by the NH Humanities Council
"New Hampshire's One-Room Schools: The Romance and the Reality"
Hundreds of one-room schools dotted the landscape of New Hampshire a century ago and were the backbone of primary education for generations of children from the early 19th century onward. These schools are revered in literature and lore, but were beset with problems, some of which are little changed in today's education environment. The greatest of these issues was the method of financing the local school and the vast differences in ability of taxing districts to support education. Other concerns included teacher preparation and quality, curriculum, discipline, student achievement and community involvement in the educational process. Steve Taylor will explore the lasting legacies of the one-room school era and how they echo today.
Stephen Taylor Real New Hampshire article on
UNH Magazine Online
http://unhmagazine.unh.edu/sp11/steve_taylor.html
November 2
Annual Meeting & Pot Luck Dinner
The Historical Society meets once a year for our annual Pot Luck Dinner. We meet in the Congregational Church Vestry, bring something to share, and all have dinner. We also elect our officers at this meeting and organize ourselves for the coming year.
The most important thing, is that we have good food, good company, and good fun.
Join the Farmington Historical Society and join us for our Annual Dinner
December 7 To Be Announced
March 1
Larraine Meyer
"Decorating with Antiques"
Perhaps, the story of how Lorraine became an antiques dealer is the most interesting part of this most interesting woman's life. She attributes it all to being raised in a convent. She says convent school children were allowed very few personal items. Indeed, she explains with a laugh that this is why she loves being surrounded by "clutter". In essence, attempting to make up for what she feels she missed as a child. At the age of nine, her parents divorced. Her father, as she explained "got" her and promptly placed Lorraine in a convent with nuns, who all became her "mothers". Lorraine says her entire worldly possessions were contained in one tiny black suitcase. It is her belief that she reacted to deprivation by later accumulating anything that caught her eye.
from
She's One of a Kind
http://www.thegavel.net/myers203.html
April 5th
Jean Davenhall
"Sawyer Prints"
Description to be posted soon.
May 3rd
Martha Cox
Professional Associate of the American Institute of Conservation
"The Conservation/Restoration of Oil Paintings"
Description to be posted soon.
Visit Martha on the web at
http://home.metrocast.net/~mcox/GreatWorks/Welcome.html
June 7th
David Decker
"The Life and Career of General George Thomas"
A presentation on the life and career of General George Thomas, with special emphasis on his unbroken string of victories throughout the civil war. Thomas is well known as the best commander on defense in the war. He twice saved the union army from destruction at Stone's River and at Chickamauga. After this second battle, the newspapers dubbed him "the Rock of Chickamauga," and President Lincoln called his effort the most heroic act in the history of the world.
Historical Society Meetings
All meetings are held on Friday evenings at 7:00 p.m. in the historical museum on the lower level of the Goodwin Library, with the exception of the Annual Meeting in November. Meetings are free and open to the public. Membership is $5/year.
2012 Officers
President:
Dottie Bean
Vice-Pres:
Norma Park
Secretary:
Joyce White
Treasurer:
Rebecca Howard
Auditor:
Lola Wallace
Public Relations:
Joann Doke & Stan Freeda
Curators:
Rebecca Howard & Lola Wallace
In addition to caring for the museum and presenting programs of interest, the Society published the pictorial book Images of America - Farmington, available at the library for $16.99, and annually awards a $500 scholarship to a graduating Farmington High School senior.
Contact us at
FarmingtonNHHistory@gmail.com
Find

us on Facebook.
Like us on Facebook.
Follow us on Facebook